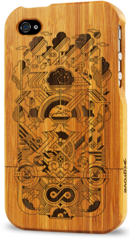 If you own an iPhone 4 and you're a designer then this article is for you. Getting an iPhone 4 case will not fix the antenua problem but can also protect your £700 investment.
We, as designers need a case that do more than just the protection! Why? Because we are creative people and we want to convey this visually. This iPhone 4 case is a piece of art and will make the use of your new iPhone more enjoyable.

I think what would be even better is that if they let you upload your artwork and then print it on the case, similar to Spreadshirt.com, then that will make the case even more creative and unique. Also, the wood material is great, I love it but would like to see some other materials like carbon fibre and metal, or may be glass.
These guys have done a great job at making the iPhone 4 more desirable dispite the fact that it has more many issues.